Best US Camping Locations and Ideas for Experienced Campers
Camping is not just a cure for tackling urban discomfort and stress. It's a great pleasure in itself: An opportunity to go to bed at a decent hour, glance up at the constellations and get your hands dirty to eat food cooked over the wood fire. If you're trying to find a reason to dust off your torch or fire up your camper van, there are extraordinary vistas in every state in the US where you can head for the night.
Camping is not only a summertime activity. Whatever the time of year, picturesque adventures across America greet visitors in some of the country's most scenic areas, along with their camps and RVs, for nights of grilled meat, BBQs and campfire music. Switch off your mobile phone, breathe deeply in the fresh air and schedule an off-season expedition to any of these campsites throughout the year.
Enchanted Rock State Park
Camping in Texas well into the middle of summer isn't always the most relaxing experience, but the spring is always an ideal time to go open air and get closer to nature. One of the finest places to spend a few nights in the backcountry is at Enchanted Rock State Park, home to one of the biggest batholiths of granite in the entire United States. The park is worth the trip only for the scenery from the peak of the massive rock slab itself, however, there are exceptional trails that are worth a walk too.
Stroll deeper into the backcountry and not only will you leave behind all the masses but you'll also encounter some safe and peaceful campgrounds. While over there, you'll be able to see the Texas Hill Country in all its magnificence and lie down under a ceiling as big as Texas itself and loaded with limitless stars.
Badlands National Park, South Dakota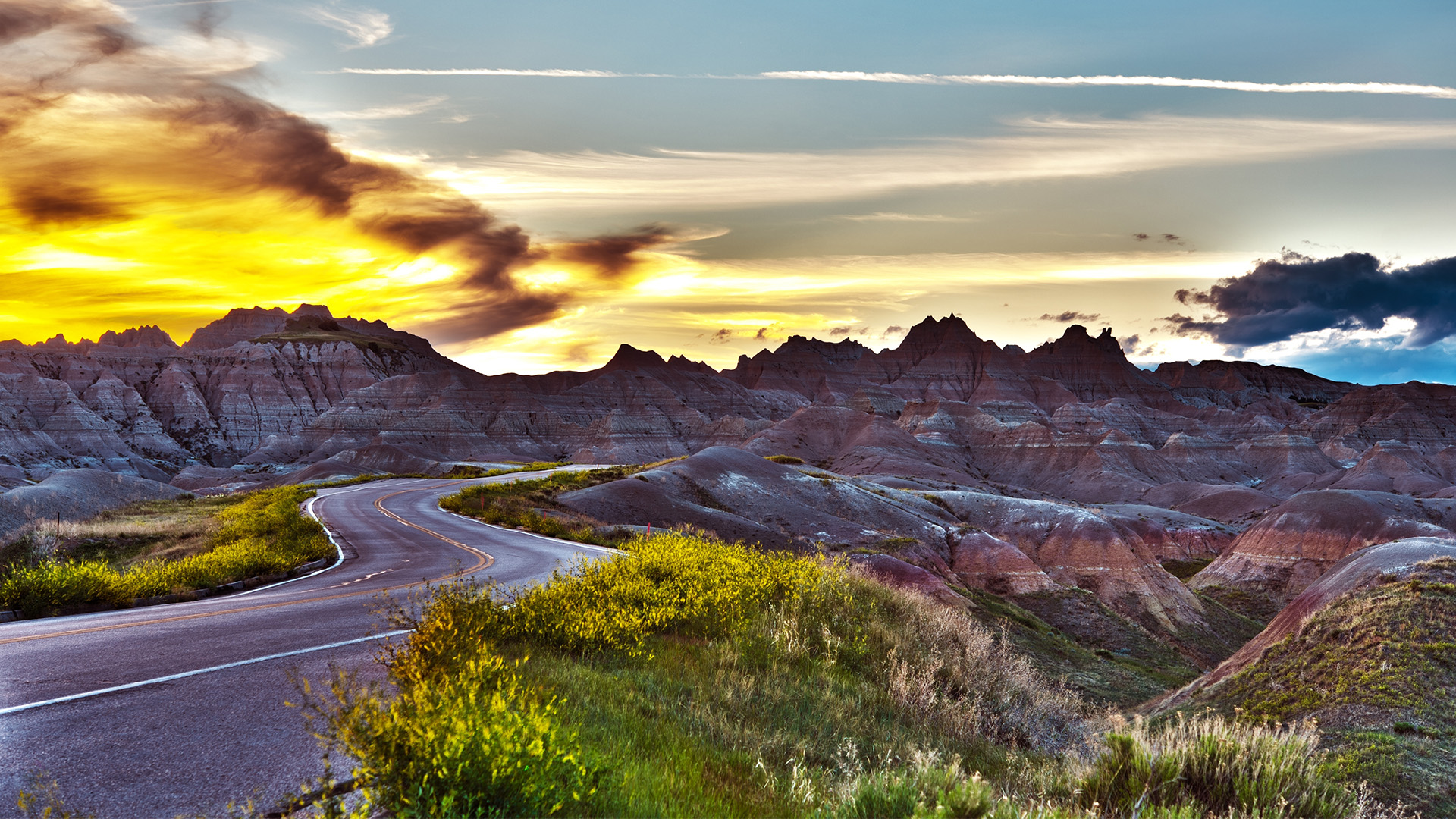 Don't overlook the Badlands elegance. The weather may be harsh but it's still breathtaking. You may also discover great plains and locations to peak at ancient fossils among the many rock formations you'll see there. There are two campsite possibilities: Cedar Pass with facilities such as running water, power, etc. and Sage Creek without any running water but you can see bison roaming around commonly.
Arizona Havasupai Campground, Havasupai Reservation
Going to Havasupai poses a challenge. Immediately, permits are bought up, and even if you grab one, it's a 10-mile hike from the surface to reach this rustic campsite that hugs Havasu Creek. Nevertheless, take the trip and you'll be welcomed with a series of amazing waterfalls and natural pools.
White Mountain National Forest, New Hampshire
If you're aiming for a more earthy northeasterly experience, the White Mountains might be the best choice. In this area of the Appalachians, the hike is pretty rugged yet absolutely worth it if you're ready for the challenge. The views here are especially spectacular in the fall as the foliage turns blends of red, yellow, and orange. Although the forest has 24 campsites with a whopping 800 campsites. There are eight walk-in campgrounds in the northern part of the state. Reservations are necessary at developed campgrounds. Camping in the backcountry is also permitted except for the no-camping areas listed.
Minnewaska State Park Preserve, New York
The Minnewaska State Park Preserve is situated just 94 miles north of New York City and is a great retreat for outdoor enthusiasts and recreational explorers. The park lies on the spectacular Shawangunk Range, which rises above sea level about 2,000 feet and is surrounded by rough, rocky hills. With 35 miles of carriage roads and 50 miles of footpaths for cycling, biking, hiking or just exploring, it is home to natural rock formations, many waterfalls, three super clear lakes, heavily forested woodland, pure cliffs and ledges that lead to incredibly stunning views.
Every bit of this location is scenic and wonderful. And you can try horse riding or strategic rock climbing if you are experienced. The activities are unending. Check out the Samuel F. Pryor III Shawangunk Gateway for a compact yet high-quality camping experience. A pavilion and cooking zone, bathhouse, bathroom facilities, and trails are included in the tent-only campsite. There are 24 drive-in places (one vehicle per site) and 26 walk-in places. All sites can accommodate up to two camps and four persons per pad, so bookings are a smart idea.
Arches National Park, Utah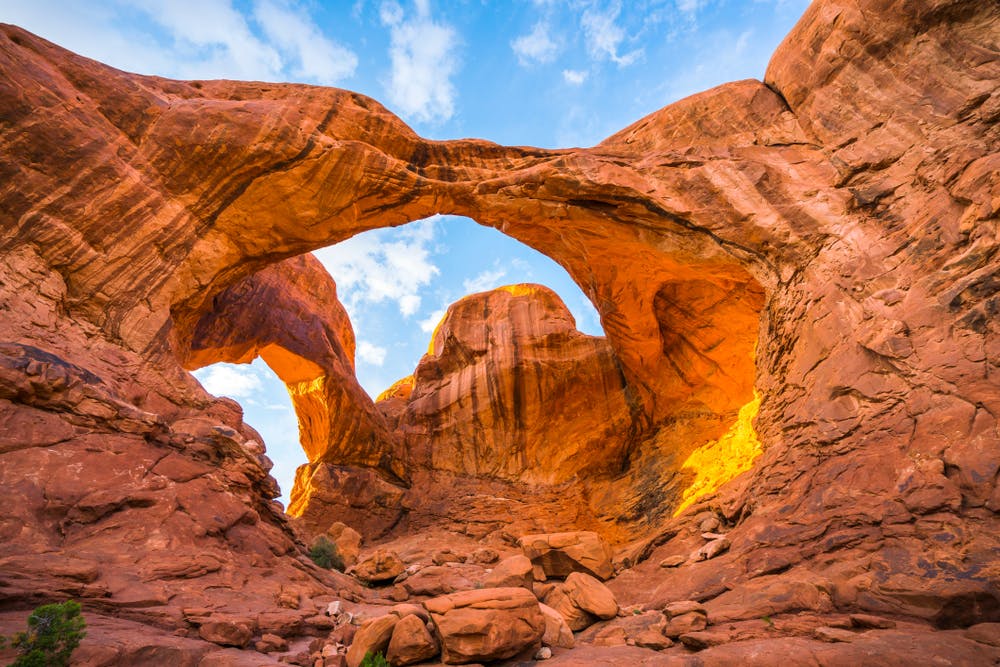 In the twisted Arches National Park, where intimidating rusty stones cover the land with their climate-beaten buttresses rising into the clouds, photo opportunities and rugged hikes prevail. Camping is kind of minimal, but as long as you can prove you know what you are doing, you can backpack around. It's convenient to venture anywhere, and anyone who enjoys an adventure along with some stunning views to witness is welcome.
Great Smoky Mountain National Park
This park along the North Carolina and Tennessee boundary is amazing for hiking, horse riding, whitewater rafting, and camping at sites like Deep Creek Campsite near Juney Whank Falls. Camping areas at Great Smoky Mountain National Park are accessible in the back country, front country, for parties and horse camps. Host to more than 1500 various flowering plants, the Great Smoky Mountains National Park is an amazing destination to be in the spring when many of those plants tend to bloom.
The park comes to life with color and aromatic smells as the warmer temperatures cause the seasonal transition. It is usually the most visited national park in the U.S. and can also get very packed in the summer given its massive size. Yet it's still fairly quiet throughout the spring and campgrounds are relatively easy to find.
---